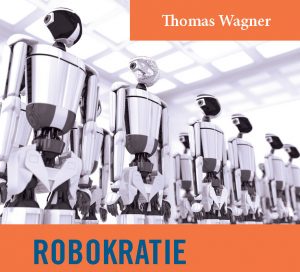 07.11.2019, 14-16h – Lecture and discussion with Dr. Thomas Wagner (cultural sociologist, journalist, literary editor "Junge Welt")
The Relationship of Capitalism of Digital Platforms to the Ideology of Singularity
In the environment of corporations such as Google, Facebook and Co., an ideology of technological feasibility is flourishing. Their followers propagate the fusion of man and machine, speculate about artificial super intelligence and dream of immortality in the cloud. All social problems could be solved en passant. Fantastic visions, crazy ideas. But more than fantasies: Their propagandists finance start-ups, advise governments, run the laboratories of high-tech companies and disseminate their ideas at their own universities.
Thomas Wagner calls this ideology robocracy and explains that as a result the rule of the present elites is consolidatd. At the end the question of a democratic use of technology stands: That man does not become an obsolete model.
Thomas Wagner, Dr. phil., *1967. Cultural sociologist, journalist, literary editor (young world). Numerous books and articles in specialist publications and in popular magazines. Published among others "Die Mitmachfalle. Citizen participation as an instrument of power".
more detailled info on our wiki