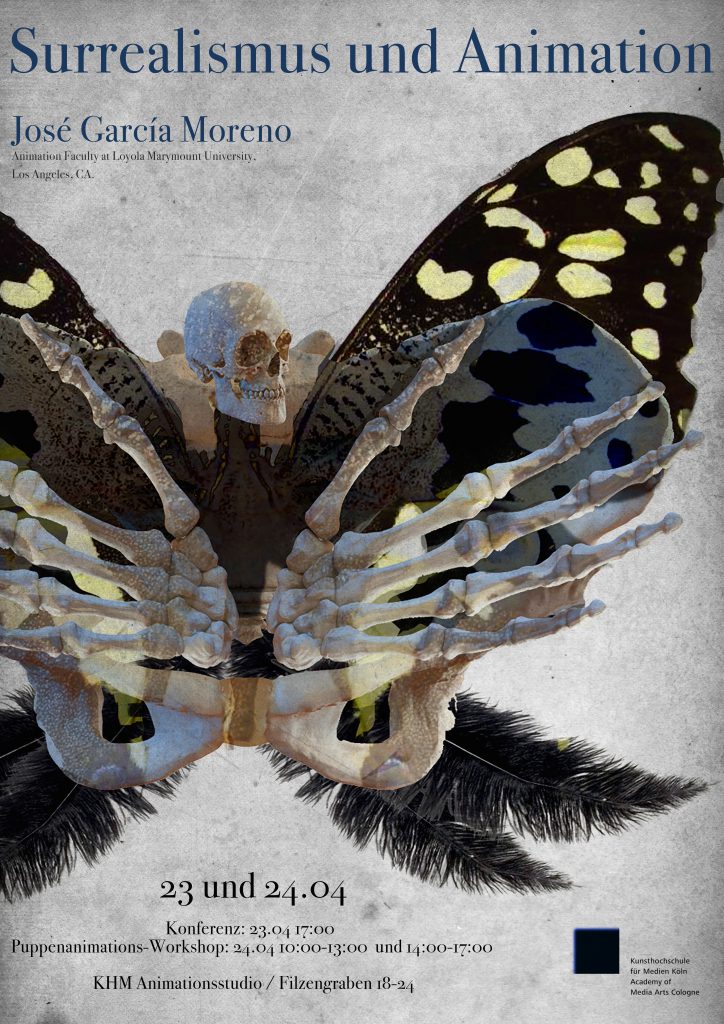 José Ángel García Moreno (Loyola Marymount University)
Conferenz: 23.04.2019
Workshop puppet-animation: 24 .und 25.04.2019
KHM Animationstudio / Filzengraben 18-24
The goal of this animation workshop resides on the idea of tactility and relation to the animated object through the lens of the Surrealist avant-garde movement. Historical and artistic references would be made to Central European animation, especially Czech auteurs like Jan Svankmajer. Also the conference presentation will deal on the Surrealists' fascination with the concept of the Wunderkammer or Cabinet of Curiosities. During the workshop, Students will help the instructor create an animated installation using a glass cabinet, and 3D printed objects and hand sculpted objects, which will be provided. Animation will be captured in a traditional stop motion fashion, edited and later projected again into the cabinet. Sound design and music will be post-produced after the workshop has concluded.
José (1961) was born in Mexico City.
He studied at the film school in Prague, FAMU, and worked as an apprentice in the animation studios Bratři v triku (Brothers in Trick) where he directed his first professional film under the historical Czech brand, founded by Jiří Trnka. He completed his education with a Masters in Fine Arts at UCLA. His work has been exhibited and awarded in film festivals around the world: Annecy, Anima Mundi, Clairmont-Ferrand, Guadalajara, among others. He has received prizes at La Habana, Toronto, San Francisco, Mexico, Montreal and Japan. He has been nominated to the Ariel by the Mexican Film Academy, received the Fulbright Scholarship, and also the FONCA / John D. and Catherine T. MacArthur Foundation Grant. His body of work has an entry in the influential book "Animation, A World History" by Giannalberto Bendazzi.
His most recent work includes a miniature reconstruction of a Baroque theater based on the Swedish Drottingholm mechanisms for a stop-motion piece, which recently received a Kennedy Center "meritorious award" for animation in a theater play.