KHM students Duhyoung Kim, Ting Chun Liu and Julian Quentin present their site-specific sound installations in the foyer of the Philharmonie Köln. The exhibition was initiated as part of the Acht Brücken Festival 2021.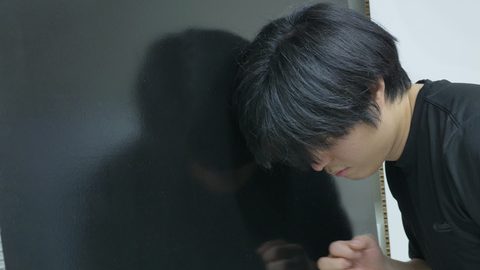 Duhyoung Kim: "Knock"
interactive spatial sound installation / aluminium, iron, cardboard and audio-system/ 450x220x35cm

"Knock" is an interactive spatial sound installation with three different plate-shaped materials (cardboard, iron and aluminium) to knock on yourself.
Knocking is a common method of acoustically perceiving invisible spaces behind. In day-to-day life, people knock on watermelons, for example, to test their ripeness, or on walls to detect their structure and possible cavities. In South Korea, there is a saying that you should even knock on stone bridges before you cross them. Knocking is familiar and simple. "Knock" takes this familiar method as its humorous theme through unusual sounds.

Duhyoung Kim, raised in Goyangsi, South Korea, began his fine arts studies in Seoul and has been studying at KHM since 2019. He deals with sound and space through different materials.
Ting Chun Liu: "Beneath"
audiovisual installation / ultrasonic speaker, LED stripes, color foyl

Skylights are often used in interior design to direct natural light from outside into the interior. It also addresses the human desire to look upwards. "Beneath" is a sound and light installation that experiments with natural light falling through a glass ceiling section into the interior to connect outdoor and indoor spaces. A generative text section serves as the sound base. On the chosen location for this piece, the building has a submarine-like structure, similar to a porthole. "Beneath" picks up on this situation and aims to create the feeling of being in the underwater world.

Ting Chuns Lius works revolve around the dualism between reality and the digital realms in the internet age, using programming, generative audio-visual media and action performance.
Julian Quentin: "territories // territories"
4-channel audio installation, 4 transducers

The work "territories // territories" is located inside a binary-separated toilet facility – so entering it requires an assignment that most people take for granted. In the intimate space of the toilet cubicle, we perceive, seemingly from the walls around us, a voice – similar to an inner thought monologue. Fragments of biographical narratives from different people with non-normative gender identities come together to form a kind of collective narrative about queer self-discovery.
Performerx: Anbid Zaman.

Julian Quentins current works revolve around themes of pop culture and (queer) otherness. Formally, he moves at the intersection of media art and cinema, working with film, photography, performance and installation.
---
Artistic supervision at KHM: 
Prof. Frauke Eckhardt, Gastprofessorin für Sound 2, und Dr. des. Tobias Hartmann, künstlerisch-wissenschaftlicher 
Mitarbeiter Sound.