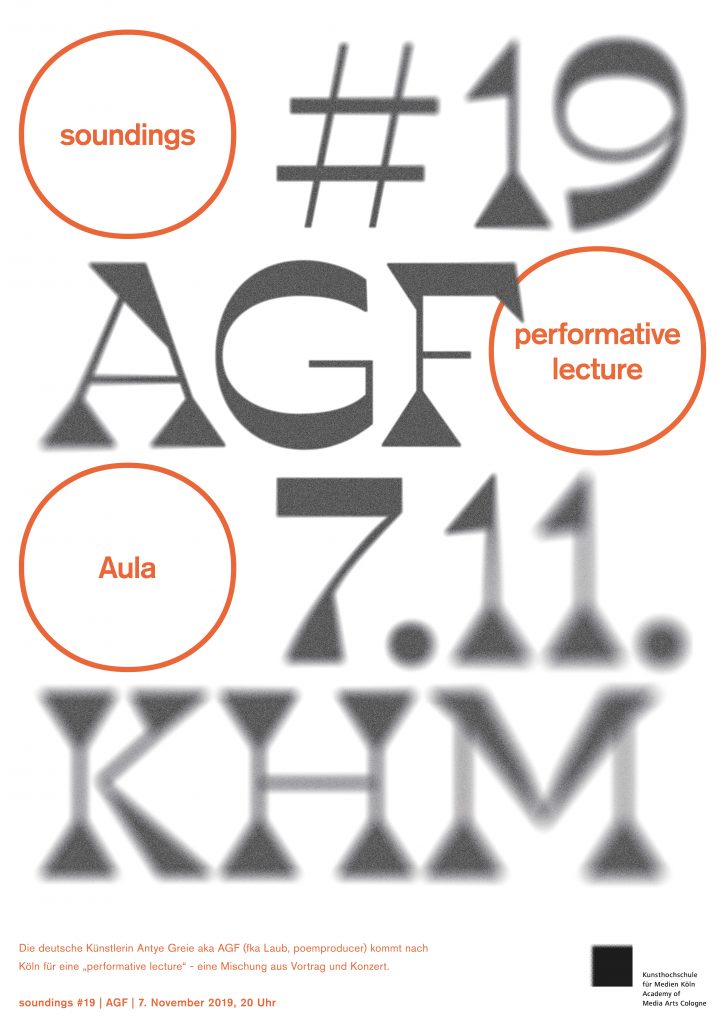 soundings #019
Thursday, November 7, 2019
20:00, KHM Aula
Antye Greie aka AGF


The headphone concert takes place in the space between the ears: in the head, in front of it, behind it, below and above it.
AGF's 20-year output in electronic computer music, media art, sound curation and accelerationist feminism finds expression in eccentric sound sculptures, decomposed language, in the audible depths of the anti-rhythmic post-Internet. Her artistic work creates an expanded space in which the pounding of Berlin experimental techno, spoken word, abstract video art and radical ecology creates a new environment. Originally from the GDR, she began early to develop a DIY approach and fought with her voice against oppression by supporting marginalized communities, most recently through female:pressure, a community and advertising platform for female identified electronic musicians.
Active since the early 1990s, she has worked with strong names in electronic music, including French pioneer Eliane Radigue, German legends Gudrun Gut and Ellen Allien, British avant-garde Kaffe Matthews, Finnish IDM treasure Vladislav Delay and classic Craig Armstrong. Antje is currently based in Northern Finland, where she founded the local art organisation Hai Art in Hailuoto in 2011.
*soundings # is a series of concerts, performances, sound art and expanded lectures produced by the sound department. Open to the general public and free of admission, events usually take place at the KHM Aula. Further information can be read here and at the Klanglabor.