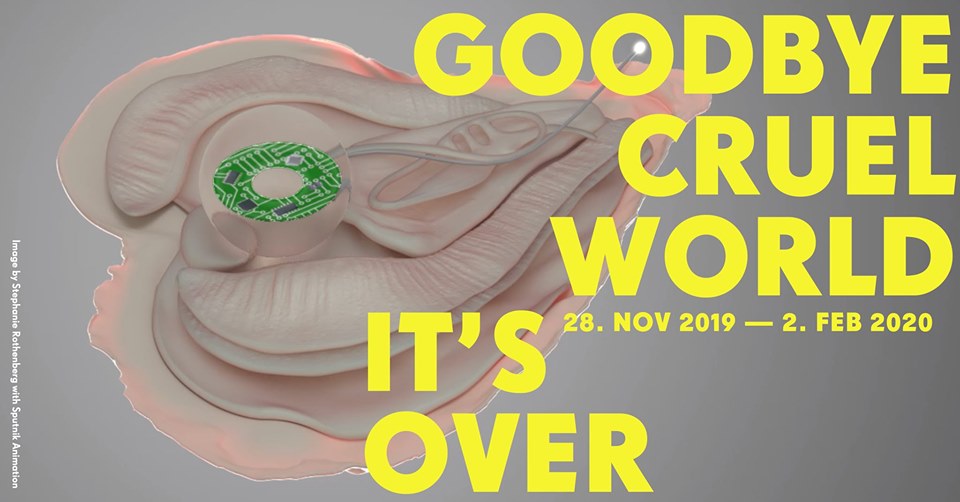 — ENGLISH VERSION BELOW —
Ausstellung "Goodbye Cruel World, It's Over"
28. November 2019 – 02. Februar 2020
WELTKUNSTZIMMER Ausstellungshallen
Eröffnung: 27. November 2019 // 19 Uhr mit Performance
Eine Kooperation zwischen Janine Blöß (Kuratorin), Mathias Antlfinger, Thomas Hawranke, Ute Hörner (Atelier Transmedialer Raum, KHM), Verena Friedrich (exMedia Lab, KHM) und Studierenden der KHM.
Anna Bandke/Anne Arndt, Sophia Bauer, Manuel Boden, Pascal Marcel Dreier, Giorgi Gedevanizde, Biniam Graffé, Nieves De La Fuente, Verena Friedrich, Thomas Hawranke, Hörner/Antlfinger, Jiha Jeon, Christelle Jornod, Paul Kolling, EvaMarie Lindahl, Antje Majewski, Susan Helen Miller, Katharina Mönkemöller, Nori Neumark/Maria Miranda, Hanna Noh, Stephanie Rothenberg, Sissy Schneider, Sasa Spacal, Qimeng Sun, Myrto Vratsanou, Hermann Weber, Daniel Wolter, u.a.
Tiere, Menschen, Maschinen, Pflanzen, Pilze und Bakterien teilen eine gemeinsame Welt. Die Ausstellung "Goodbye Cruel World, It's Over" verhandelt in Installation, Skulptur, Film, Fotografie, Virtual Reality und Malerei sowohl die Verbundenheiten als auch Konflikte, die diese Beziehungen mit sich bringen. Die künstlerischen Arbeiten verweben Erzählungen menschlicher und nicht-menschlicher Akteur*innen, deren Perspektiven ausdrücklich mit einbezogen werden. Um ihnen dabei so nah wie möglich zu sein, wird die privilegierte Position des menschlichen Subjekts bewusst unterlaufen. In Zeiten ökologischer Krisen hinterfragen die künstlerischen Positionen anthropozentrische Sichtweisen und erweitern den Blick so für ganz unterschiedliche Lesarten von Umwelt.
Die Ausstellung wird begleitet von einem Rahmenprogramm aus Präsentationen, Performances, Workshops und Screenings, in denen die Vorstellung von einer für alle bewohnbaren Welt als widerständige Praxis verstanden wird. Wie kann eine solche Welt aussehen und was sind die Bedingungen für einen Austausch zwischen den Arten?
Öffnungszeiten: Donnerstag – Sonntag 14.00 – 18.00 Uhr und nach Vereinbarung // Eintritt frei
Weitere Informationen unter: www.weltkunstzimmer.de
Die Ausstellung wird gefördert durch das Ministerium für Kultur und Wissenschaft und das Kulturamt der Stadt Düsseldorf.
Mit freundlicher Unterstützung durch die KHM und VIOSO.
—ENGLISH VERSION—
Exhibition "Goodbye Cruel World, It's Over"
28.11.2019 – 02.02. 2020
WELTKUNSTZIMMER
Opening: 27.11. 2019 // 19.00h with performance
Animals, humans, plants, machines, fungi and bacteria share a common world. The exhibition "Goodbye Cruel World, It's Over" discusses in installations, sculpture, film, photography, virtual reality and painting both the interconnections and conflicts that these relationships bring with them. The artistic works interweave narratives of human and non-human actors whose perspectives are explicitly included. In order to be as close as possible to them, the privileged position of the human subject is deliberately undermined. In times of ecological crises, the artistic positions question anthropocentric perspectives and thus extend the view for completely different interpretations of the environment.
The exhibition will be accompanied by a supporting program of presentations, performances, workshops and screenings, where the idea of ​​a habitable world for all is understood as a resistant practice. How can such a world look like and what are the conditions for an exchange between the species?
A cooperation between Janine Blöß (curator), Mathias Antlfinger, Thomas Hawranke, Ute Hörner (Atelier Transmedialer Raum, KHM), Verena Friedrich (exMedia Lab, KHM) and students of the KHM.