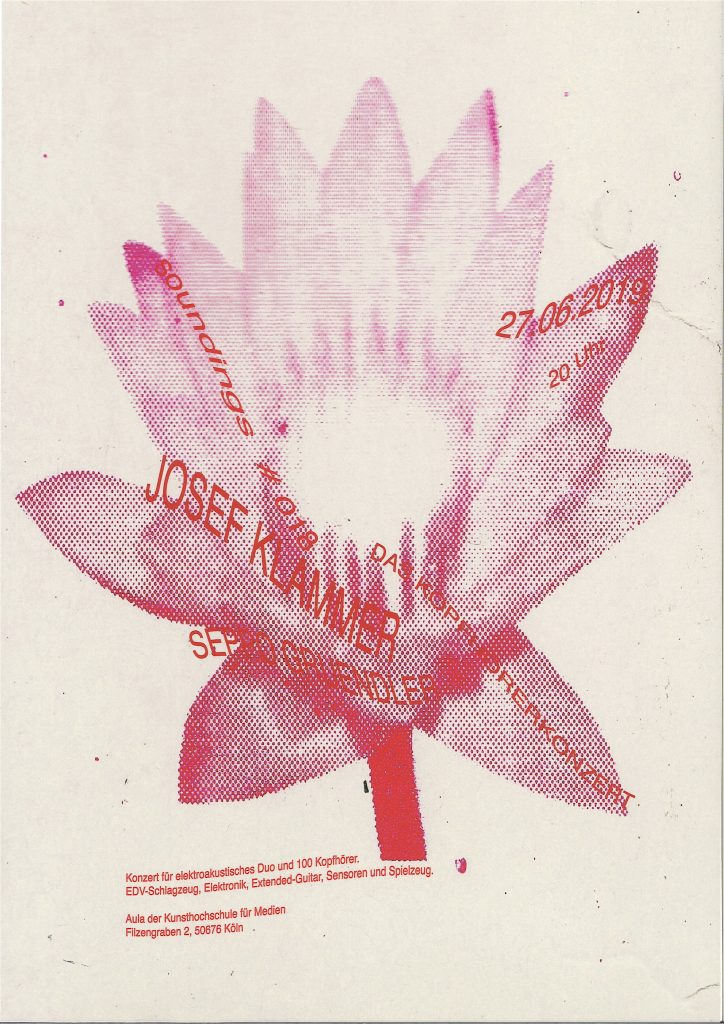 soundings #018
Thursday, June 27, 2019
20:00, KHM Aula
Klammer/Gründler – Das Kopfhörerkonzert


The headphone concert takes place in the space between the ears: in the head, in front of it, behind it, below and above it.
Convolutions are used to measure the acoustic properties of the most diverse spaces and, together with a library, are available live at virtual and real locations. In these rooms, the sounds are moved and positioned in real time using the latest acoustic 3D technology (Ambisonic, etc.).
The musical basis is formed by improvisation and the free availability of all performance parameters. The headphones allow a direct design of the acoustic impression. The focus is not on the isolated, but on the shared experience. Through the fixed wiring of the 100 headphones, the listeners experience an installation bound to the location, a headphone sculpture, a headphone room.

Josef Klammer & Beppo Gruendler have been working on the implementation of their "New Improvised Electronic Music" for over 30 years, creating pieces like Razionalnik – first multilateral telematic midi concert, Im Trockenraum – Austrias first earphones concert for 100 earphones, RGB – synchronizing two ensembles (Berlin/Graz) via TV pictures, numerous sound installations, music for theatre and radiophonic pieces.
*soundings # is a series of concerts, performances, sound art and expanded lectures produced by the sound department. Open to the general public and free of admission, events usually take place at the KHM Aula. Further information can be read here and at the Klanglabor.