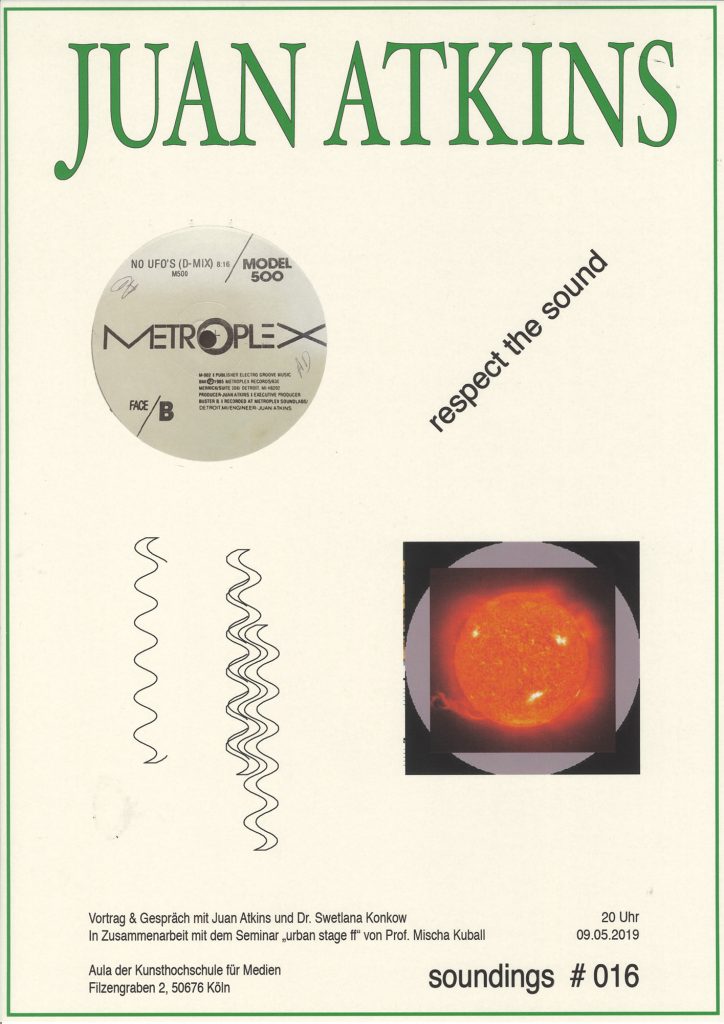 soundings #016
Thursday, May 9, 2019
20:00, KHM Aula
Juan Atkins – Respect The Sound
Juan Atkin's master class "Respect The Sound" will take the audience on a journey through sound and music theory at the Kunsthochschule für Medien Köln. The lecture presents Atkin's personal relationship and experiences in music production and includes live demonstrations as concrete examples of the theory presented. In collaboration with molecular biologist Dr. Swetlana Konkow "Respect The Sound" shows the meaning of music and sound in life, and how sound, sound waves, frequencies and vibrations influence the human mind and body and how everything is connected by vibrations. Juan Atkins and Dr. Swetlana Konkow will be available to talk to the audience after the lecture.
Juan Atkins is considered the founder of techno and laid the foundation for a worldwide movement. At the beginning of the eighties he began recording one of the most influential works in the field of techno: The single "Clear", released in 1982 under the name "Cybotron", is regarded as the first proto-techno track and has influenced numerous generations. As co-founder of the legendary Detroit Techno, Juan Atkins has been making music for 35 years and has released on legendary labels such as Tresor, Transmat and Metroplex.
*
soundings # is a series of concerts, performances, sound art and expanded lectures produced by the sound department. Open to the general public and free of admission, events usually take place at the KHM Aula. Further information can be read here and at the Klanglabor.