Start of an exchange between Accademia di Belle Arti Napoli, Vilnius Academy of Art and Academy of Media Arts Cologne: small realities.
Focussing the wonders of discovering art in the corners of daily life and informed by ideas from fluxus, small realities forages into the buzzing urban landscape of naples to infuse it with guerilla artworks that pop up in unexpected corners, subtly or drastically altering their environment, before dissapearing again. A general introduction consists of examples of artistic interventions which in a similar manner infuse daily life: Alison Knowles, Giveaway Construction (1963), Max Neuhaus, Times Square (1977), Robert Filliou, Galerie Légitime (1962) in a hat, David Hammons Bliz-aard Ball Sale" (1983).
…here fluxus predilection of working with mundane, everyday objects and actions ties in very well with recent topics of sustainability and reuse/recycling. The participating students of Cologne, Vilnius and Napoli form small teams which 1. go out to scout for locations, 2. consider possible forms of interventions (visually, sonically, performative, installative…), 3. produce these works.
The showcasing / exhibition takes place at the end of the workshop week in the form of an opening reception. The public is handed out a map, on which is marked the area where an artistic intervention can be expected (but no exact place given) and sent on a perambulatory exploration.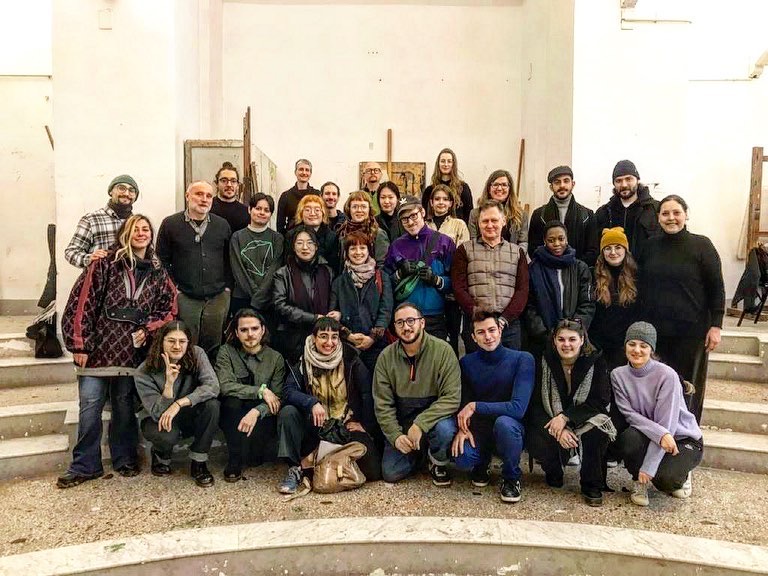 Participating students and staff
Alessandra Falcone, Alessia Russano, Benita Martis, Biagio Salvati, Claudia Wear, Dennis Aycicek, Edvinas Sinkevicius, Graziano Riccelli, Helin Korkmaz, Hojin Lee, Inna Lipovets, Irene Macalli, Jeongeun Kang, Jiwoo Kim, Katrin Guömunds Sigrúnardottir, Kyuwon Moon, Ladi Traore, Marius Kavaliauskas, Metta Borriello, Noemi Ialenti, Pedro Ramirez, Raffaele Di Lorenzo, Ylenia Rongo.
Prof. Rosaria Iazzetta (Sculpture School Coordinator), Prof. Alessandra Troncone (History of Contemporary Art), Prof. Elisa Laraia (Videoinstallation), Prof. Adriano D'Elia (3D Animation).
Prof. Zil Lilas (3D Animation), Prof. Hans W. Koch (Sound), Asst. Prof. Jacqueline Hen (Design & Research, exMedia Lab), Asst. Prof. Tobias Hartmann (Electroacoustic Music & Research, Sound), Asst. Prof. Karin Lingnau (Material & Fiction, exMedia Lab).
Dr. Vitalij Červiakov (Researcher), Gailė Cijūnaitytė (Media Art).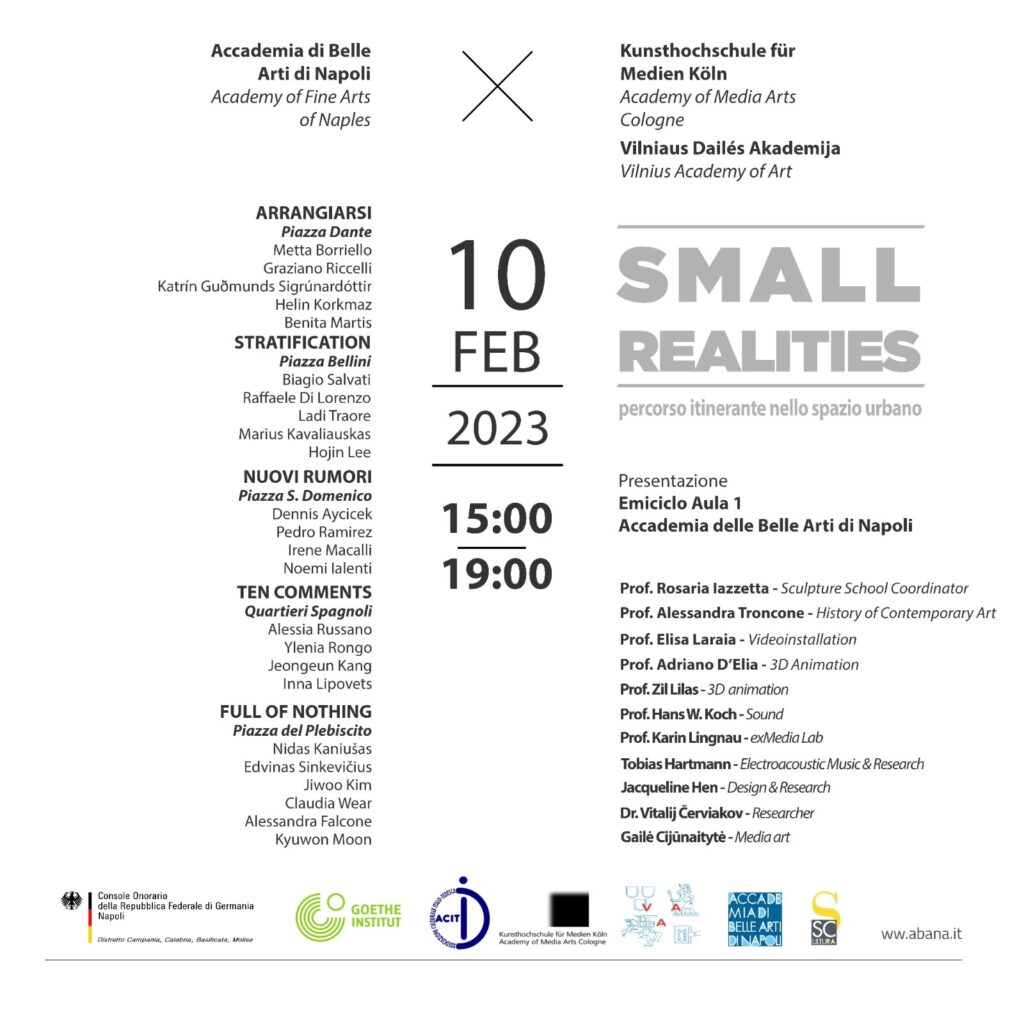 some first impressions, more to follow soon.

Small realities, part 2, will be in june 2023 in Cologne.