Talk by Johanna Steindorf
18.06.2021, 10:00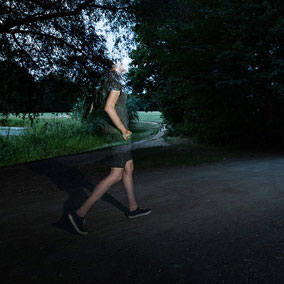 The focus of the lecture lies on the audio walk: an intermedial, cross-genre artistic format in which artists produce an audio piece specifically for reception with portable media and headphones, addressed to an individual and performed by him or her site-specifically along a route or on a surface. Audio and movement unfold synchronously as the environment and the individual are related, creating a synesthetic experience. In this regard, audio walks function as immaterial sound installations, designed for both public spaces and interiors of all kinds.
Through its orientation, audio-walks can address different aspects resulting from the relationship between the individual and the environment: ecological, geographical, architectural, historical, as well as psychological, social and performative aspects, through which the environment and our position in it are critically and aesthetically reflected.
In the lecture different examples, approaches and possible topics of the audio walk will be presented and discussed in the context of the course.
The talk takes place in the context of the seminar "Do Keep Ponds Clean Or Frogs Get Sick.
Art & Biological Media" (Verena Friedrich, Dr. Klaus Fritze).
In case you want to participate in the online session please mail to: v [dot] friedrich [at] khm [dot] de
About the speaker:
The media artist Johanna Steindorf deals with themes of migration, nomadism, gender, perceiving and being perceived in public space and with the corresponding construction of private space. Traveling through and living in different countries in Europe, Asia and Latin America shape the works of the Quito-born German-Brazilian, often expressing them using narrative and mobile strategies through participatory performances, audio, video and photography.
Through her doctoral thesis "Speaking from Somewhere: The Audio Walk as Artistic Practice and Method"(2019), Johanna has been deeply engaged with the audio walk – both theoretically and practically – and has been teaching at different universities since 2015, preferably on the subject, but also at the intersections between art, design, urban space and research.
www.johannasteindorf.de